We arrived at the Provincial Court of Justice, a white and glass building in the bureaucratic modernist style, in Quito, Ecuador on February 22, 2013. It was 8:30 a.m., but since we were only fifteen miles from the equator the sun was already bright above us, intensifying our collective sense of anticipation. Environmental and Indigenous activists, and I, a researcher embedded in those movements, had come to witness the proceedings of a case with the potential to set a historic precedent for Rights of Nature jurisprudence. The Rights of Nature had been established years prior in Ecuador's progressive 2008 Constitution, a document that was the product of years of social mobilization and a recently elected left-wing government. According to chapter seven of the Constitution, "Nature or Pacha Mama" has the right to existence through the "maintenance and regeneration of its vital cycles, structure, functions, and evolutionary processes." In a major departure from liberal constitutional norms, the Constitution regards Nature as a rights-bearing subject. But it is people—any "person, community, people, or nationality," with the latter referring to Indigenous peoples and nations—that the Constitution empowers to demand the protection of these rights on Nature's behalf. Nature cannot walk into a courtroom, but its human allies can.
And that is exactly what Nature's allies attempted that sunny February morning. In the case before the judge, lawyers representing a broad coalition of Indigenous federations, human rights organizations, environmental groups, and directly affected communities had brought a lawsuit against Ecuacorriente (ECSA), a conglomerate of Chinese state-owned companies with a license to develop Ecuador's first large-scale, open-pit mine, as well as the government ministries responsible for negotiating the contract and regulating its environmental impacts.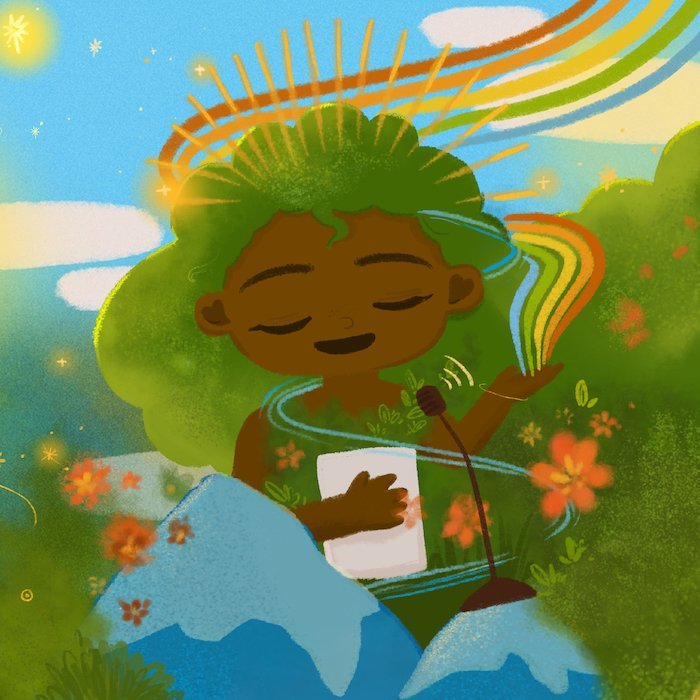 This last point is significant. In my fieldwork, I found that, time and again, the "national" interest in economic development, defined as the promotion of oil and mining projects, outweighed the "particular" interests of protecting local ecosystems and upholding Indigenous rights. The judge adopted precisely this binary in his ruling, issued five days later, which asserted that Nature's rights were a "private" interest, while development was a "public" one.
The activists didn't win the case, nor the appeal, and subsequently took recourse to the Inter-American Commission on Human Rights where it is still pending. But the questions they posed, and the state and industry reactions they occasioned, continue to reverberate throughout Ecuador as environmental and Indigenous movements strive to defend the rights laid out in the Constitution from the actions of a left-wing government that they had initially, if critically, supported.[1] These included: Who has the power to decide the fate of extractive projects? Who can speak on behalf of Nature, and to what ends? Are flourishing ecosystems and Indigenous rights at odds with "development" or compatible with it? Is the law a tool for liberation or a dead-end route to co-optation? What is the best strategy to resist the resource policies of a socialist administration that enjoyed widespread support among poor and working-class Ecuadorians, including Indigenous peoples? And what are the prospects for a post-extractive transition on the peripheries of a neocolonial world order?[2]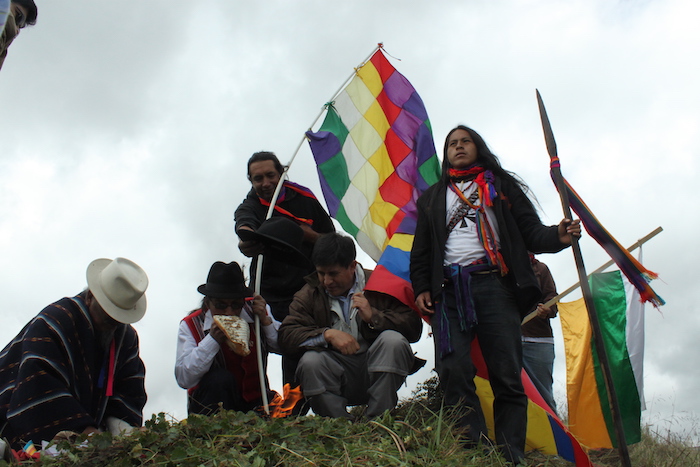 These dilemmas are shared by social movements across Latin America and beyond in communities on the frontlines of extraction, poverty, and pollution in the United States, Canada, and everywhere that social and environmental harm is unevenly distributed along ethnic, racial, and class lines. Confronted with this bevy of dilemmas, the activists I accompanied and interviewed experimented with a diversity of tactics. They elected anti-extractive leaders to local government; they marched from the Amazon to the capital, covering hundreds of kilometers; they organized nature walks through the still-verdant sites slated for extractive ruin and occupied the mining camps erected on their dispossessed land; they monitored industrial impacts on water, air, and species' habitats; and, frustrated with the legal system, they took the enforcement of constitutional rights into their own hands, organizing the very consultations in communities affected by mining and oil projects that the government had failed to implement.[3] In the process, they faced retaliatory violence from police, military, and private guards working on behalf of extractive firms.
On a warming planet, struggles for territorial rights and environmental justice are intensifying—as are risks to activists, with Latin America being an especially deadly region for land and water defenders.[4] But these conflicts aren't merely the work of fossil-fueled capitalism. They will continue to erupt during the transition to renewable energy. That's because the infrastructure and technology needed to harness, distribute, and store renewable energy requires a great deal of land and raw materials.[5] Batteries, essential for decarbonizing transit and storing energy on renewable grids, are made of lithium, nickel, graphite, and cobalt—and the cars they power need over 180 pounds of copper, wrested from mines like the Mirador in Ecuador.
In Chile, where I also conducted fieldwork, lithium-rich brine is sucked out of the Atacama Salt Flat. These salares are part of a vulnerable wetland system in the second driest place on earth that provides water for Andean flamingos and vicuñas, as well as the eighteen Atacameño Lickanantay communities that ring the vast, craggy, white-grey expanse. As lithium mining has progressed, so too has organized opposition through groups like the Consejo de Pueblos Atacameños. Sergio Cubillos, the organization's young president, told me that until there is a clear framework for regulating the impact of lithium mining on water and biodiversity as well as respect for Indigenous territory, there should be "no more companies and no more extraction." Local resistance to what some activists refer to as "green extractivism" has also been amplified with the formation of a transnational network called the Observatorio Plurinacional de Salares Andinos, which links environmentalists, scientists, lawyers, and directly affected communities across the Andean plateau in Argentina, Bolivia, and Chile.[6]
The Observatorio is novel not only in its transnational scale, but also its innovative framing, which centers a positive vision for the ecological and cultural values of the salt flats nestled between the towering peaks of the Andes—a watershed in the high-altitude desert, vibrant with diverse lifeforms and ten thousand years of Indigenous history.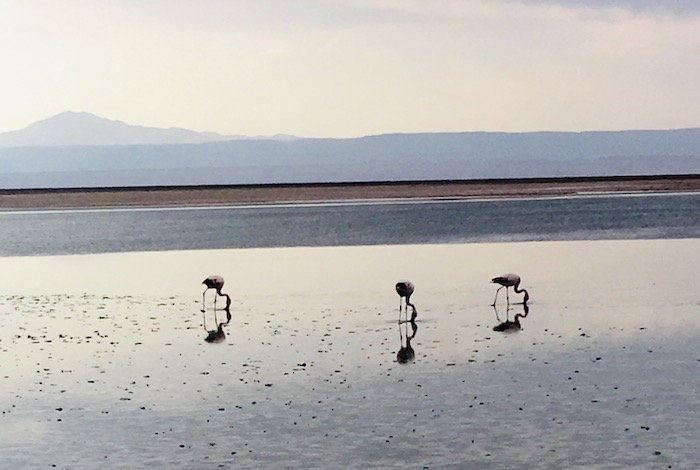 The extractive frontiers of the energy transition present a challenge for advocates of climate justice in the Global North.[7] Does rapid decarbonization require sacrifice zones within and beyond the borders of hegemonic nation-states?[8] I would argue that it does not, but it does require transforming practices of production and consumption. Decarbonization is not enough. We need to transition to less material-intensive forms of abundance, redefining the latter as the collective enjoyment of public amenities—from beaches to theaters—and the free time to cultivate the more-than-material relationships that bring us happiness.[9][10][11][12]
These practices won't emerge spontaneously, of course. Like our prevailing privatized, unequal, consumerist culture, the behaviors we need to cultivate are shaped by public policy and physical infrastructure. The fact that individual electric vehicles have emerged as a "solution" to the climate crisis—a framing that effaces their environmental impacts—has much to do with our car-centric built environment. Solidarity across supply chains means consuming less, more equally—think an electric bus that can transport thousands of passengers an hour rather than a privately-owned EV that sits in a garage most of the day. It means changing the way we conduct trade to prioritize ecosystems, Indigenous communities, and workers over the flow of goods and capital.[13] And it means learning from Latin American intellectuals and movements, who recognize that a post-extractive, just transition in the Americas is impossible without upending the systems of trade and finance that lock periphery countries into debt and dependency[14] Across the region, calls for a new "ecosocial pact" and a "New Green America" are in dialogue with the Green New Deal, pushing activists in the United States to recognize that the domestic, regional, and global cannot be disentangled.[15][16][17] We can't achieve climate justice solely within our borders, and to think so only impoverishes our ability to imagine the transformation we aspire to achieve.
From the courtrooms of Ecuador to the salares of Chile to the belly of the imperial beast, I hear echoes of the same question: How can movements transform the relationship between society and nature in the context of an ever-more rapacious capitalism? Some movements center resistance to the state and capital; others recruit left candidates and organize parties to infiltrate liberal democracy on its own terrain; still others practice mutual aid and radical pedagogy. Some groups do all of these. Lessons from Latin America, and radical struggles here in the United States, show us that there is no abstract answer to questions of tactic or strategy. There is only a material calculus that accounts for capacities and obstacles, goals and routes. The state has its pitfalls: the limits of the law and those of national boundaries—to name two. But we need more than resistance. It's hard to imagine tackling enemies as sedimented as fossil capital or as novel as green extractivism without making use of the state's capacities to enforce and redistribute. Likewise, it's impossible to imagine a state confronting the crises of our moment with extraordinary popular organization pushing on all levers of power. The way forward can only be forged through practical experimentation: pushing on the state from the outside, pulling on it from the inside, dismantling its most irredeemable institutions, and establishing more just ones in their place.