MISSION
The mission of The Natural History Museum is to affirm the truth of science. By looking at the presentation of natural history, the museum demonstrates principles fundamental to scientific inquiry, principles such as the commonality of knowledge and the unavoidability of the unknown. The Museum inquires into what we see, how we see, and what remains excluded from our seeing. It invites visitors to take the perspective of museum anthropologists attuned to the social and political forces inseparable from the natural world.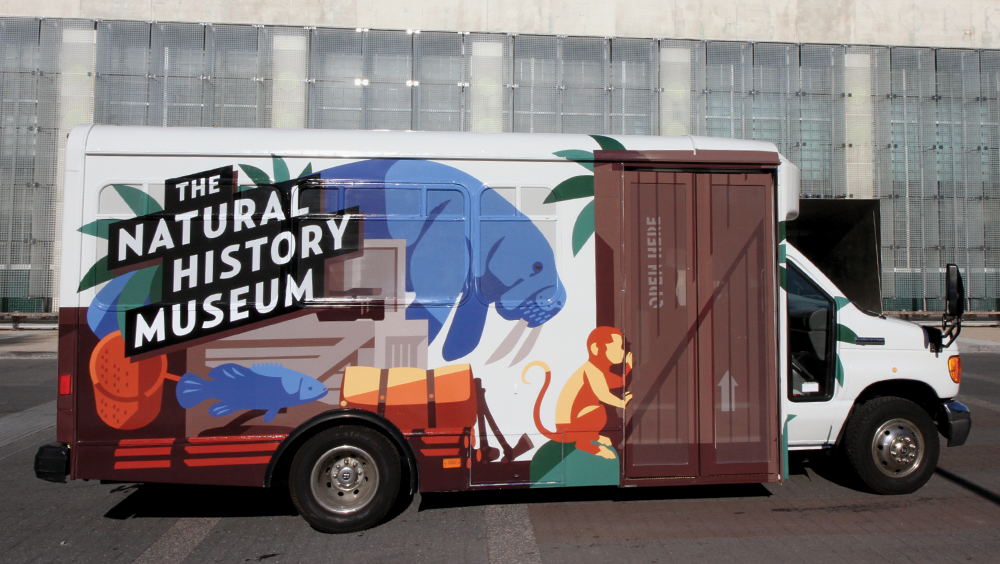 ADVISORY BOARD
Betsy Theobald Richards (Cherokee Nation of Oklahoma), Director of Creative Strategies and Public Programs, The Opportunity Agenda
Crystal Echo Hawk (Pawnee Nation of Oklahoma), President and CEO of Echo Hawk Consulting and Founding Director of Reclaiming Native Truth
Eric Chivian, Founder and Former Director of the Center for Health and the Global Environment at Harvard Medical School, co-founder of International Physicians for the Prevention of Nuclear War, which won the Nobel Peace Prize in 1985
Faith Spotted Eagle (Yankton Sioux), Founding Member, Braveheart Society
James Powell, Geochemist; Former President and Director of the Los Angeles County Natural History Museum and former President of the Franklin Museum of Science
Judith LeBlanc (Caddo Tribe of Oklahoma), Founding Director, Native Organizers Alliance
Kert Davies, Director, Climate Investigations Center
Kii'iljus / Barbara J. Wilson (Haida Nation), Fellow at the Pacific Institute for Climate Change (PICS)
Lise Van Susteran, Psychiatrist, Co-Founder, Interfaith Moral Action on Climate
Mark Dion, artist
Michael Johnson (Arikara/Hidatsa/Ojibwe), Assistant Director of Development, Native American Rights Fund
Michael Mann, Distinguished Professor of Meteorology; Director, Earth System Science Center, Pennsylvania State University
Naomi Klein, Award-winning journalist and author of The Shock Doctrine: The Rise of Disaster Capitalism, and This Changes Everything: Capitalism vs. the Climate
Robert R. Janes, Ph.D. , Archaeologist, Museologist, Editor-in-Chief Emeritus of Museum Management and Curatorship
Rosalyn LaPier (Blackfeet), Author, Ethnobotanist, Scholar, Member of the EPA's National Environmental Justice Advisory Council, and Research Associate at the Smithsonian National Museum of Natural History
Shelley Means (Ojibwe/Lakota), Native Community Consultant for Native Voices Rising, Trainer with Native Organizers Alliance
TEAM
Beka Economopoulos, Executive Director
Jason Jones, Creative Director
Ruth Miller (Dena'ina Athabaskan), Storytelling Organizer
Julian Brave Noisecat (Secwepemc/St'at'imc), Narrative Change Director
Karina Yager (Quechua), Director of Education
Steve Lyons, Director of Research
Mark Auslander, Director of Special Projects
ABOUT THE NATURAL HISTORY MUSEUM
Launched in September, 2014, The Natural History Museum is a traveling pop-up museum that offers exhibitions, expeditions, educational workshops, and public programming. Unlike traditional natural history museums, it makes a point to include and highlight the socio-political forces that shape nature.
The museum's programs appear within established art, science and natural history museums, in its 15-passenger mobile museum bus, and online at http://thenaturalhistorymuseum.org. The Natural History Museum is a member of the American Alliance of Museums and the Association of Science and Technology Centers. The museum is a project of Not An Alternative, a collective of artists, scientists, historians, theorists, and activists.
Reframing the past to save the future
The Natural History Museum partners with museums to develop programs that help make the subjects of science and natural history more relevant to the day to day lives of the communities they serve. We collaborate with local community groups, scientists, and museum staff on pop-up exhibits, local bus tours, citizen science initiatives, and alternative tours inside established museums. These programs pick up where traditional exhibits leave off–by connecting static displays to pressing community concerns and world events. We do this primarily through Education and Public Programming departments. If you'd like to learn more, get in touch!
Curatorial Statement
The Natural History Museum establishes a space for looking at science. Such a space is necessary because science is under attack on multiple fronts. Capitalist enterprises, corporate philanthropists, and mainstream political lobbyists all look at science from the perspective of their particular interests. Capitalist enterprises fund scientific research for the sake of private profit. Scientists are faced with the option of either serving these interests or closing their labs. Corporations fund museums and exhibitions to enhance their own reputations. For them, science is little more than PR. Lobbyists try to reduce some scientific findings to opinions, while elevating other ones as they promote their privatizing agenda. Against all these tendencies, The Natural History Museum looks at science from the perspective of the common, the common knowledge at the core of science as well as the common nature science defends.
The Natural History Museum trains future generations to look like museum anthropologists. Turned on to the museum, the anthropological gaze discovers the active work of science curators and educators. It sees the activity of display, the decisions regarding what gets included in an exhibit. These decisions incorporate and extend social and political forces, participating in creating the world that they display. When natural history museums tell nature stories, the implications are reflected on us. What is included in these stories is the world we are in, a world in which we are implicated. At the same, we are implicated in the world that does not appear, in the world excluded from museum stories, the world outside their frame: the excluded events, people, and possibilities are also elements of our relation to nature. The Natural History Museum thus cultivates a mode of inquiry that challenges museum anthropologists to engage natural history with an interest in what is left out because that is also part of our relation to nature.
Some view nature in terms of the privilege of the few, the few who can own it, and the few who can access it. Others view nature in terms of all of us, as if we were not divided in our relation to nature. The Natural History Museum's perspective on natural history differs by taking its orientation from two basic insights: nature is common and what is common is divided. We struggle over what is common. We fight to keep it common. The fact of this struggle alerts us to division, conflict, antagonism: nature has never been in balance. Nature doesn't just exist. It insists beyond the limits of the known. What we can't see and don't know impresses itself on how and what we see. Since The Natural History Museum looks at the way nature appears, it includes other natural history museums as part of its view of nature. It attends as well to the visitors to museums and their engagement with displayed nature. These visitors reflect the museum as an institution dedicated to a collective future: it provides knowledge under the assumption that there will be a future not closed off into private enclaves. Natural history museums often come under pressure to betray this future, to sell it off to the highest bidder. The Natural History Museum occupies this split in the institution, taking the side of a collective future.
Special Thanks to Our Supporters
Chorus Foundation
Overbrook Foundation
Nathan Cummings Foundation
Heinz Foundation
Hewlett Foundation
National Geographic Foundation
Resources Legacy Fund
Invoking The Pause of RSF Social Finance
Canada Council for the Arts
Beespace NYC
LUSH Charity Pot
Patagonia Foundation
Global Wallace Fund
Compton Foundation
Voqal Fund
Horton Foundation Fund
Benoona Fund of RSF Social Finance
The New York Community Trust
Solidaire
Argosy Foundation
Andy Warhol Foundation for the Visual Arts
A Blade of Grass