The Natural History Museum's Executive Director Beka Economopoulos penned a feature article for the Summer 2018 issue of Museum Magazine, a publication of the American Alliance of Museums distributed to thousands of museums and museum professionals around the country.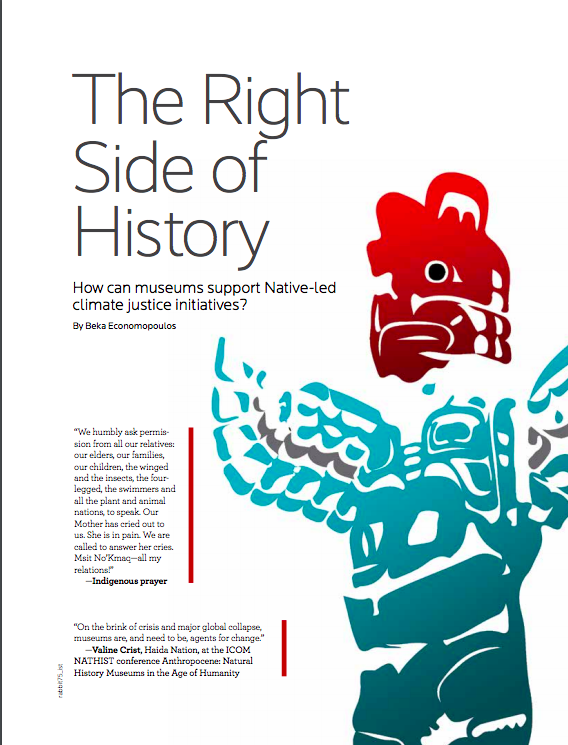 Titled "The Right Side of History", the article explores how museums can support Native-led climate justice initiatives:
"We believe that to be relevant in this time of environmental crisis, museums must move beyond the ambition to just be sustainable, carbon-neutral museums. We must also address and support the needs of frontline and fence-line communities that are struggling for a more just and sustainable world for all of us.
Being environmental stewards within this context means we need to align our practices with the global climate and environmental justice movement. This movement is led by Indigenous communities and born from cultures and bodies of knowledge that are already present—as artifacts, stories, and didactics—in the Native halls of the country's natural history museums. In the post-Standing Rock era, these objects are charged with new meaning and significance. Through their curation and interpretation, we can connect history to the present—and impart lessons for the future."
The article's case study is Kwel' Hoy: We Draw The Line, an evolving traveling exhibition and multi-year collaboration between The Natural History Museum, Lummi Nation and other Indigenous communities in North America. The exhibition debuted at the Carnegie Museum of Natural History in Fall 2017, is currently at the Watershed Center–a science center in New Jersey, and will open at the Florida Museum of Natural History later this year.
But what can YOUR museum do? The article acknowledges that every museum has its own specific mission, expertise, and operational limitations, but even the smallest institutions in the most conservative states can take real steps. It closes with suggestions and resources. For example: 
"1. Focus on the "just transition." A common concern we hear from colleagues at peer institutions is that taking on environmental justice concerns in regions where fossil fuels are the bedrock of the local economy can make visitors feel alienated or attacked. What happens to their jobs, their homes, and their local economy when fossil fuels are abolished?
One of the most important concepts advanced by the climate justice movement is the notion of a "just transition" from a dirty energy economy to a clean energy economy. The climate justice framework plots an extensive plan in which nobody—including those currently employed by fossil fuel companies—is left behind. The discourse on just transition can help museums broach this topic both with decision-makers and visitors. Organizations such as Movement Generation offer age-appropriate trainings, workshops, and curricula on such climate justice concerns.
2. Partner with communities. The communities that are leading climate and environmental justice campaigns are using history, tradition, story, song, and distinct iconography in the context of their struggles. As trusted institutions, museums can lend their institutional support to these communities by contextualizing and uplifting their symbols, stories, struggles, and objects through exhibitions and public programs. They can only do this if they reach out, listen to, and work in partnership with the communities they want to support.
At many museums, increasing community engagement is now a top priority. Some, such as the Queens Museum in New York City, have hired full-time community organizers to broker relationships with historically underserved communities. Institutions that are unable to expand their operational capacity can reach out to grassroots networks such as the Climate Justice Alliance, Indigenous Environmental Network, and Native Organizers Alliance. The Natural History Museum is also able to facilitate collaborations between museums and communities that meet the needs of the various stakeholders involved."
You can read the full piece here.