From the Salish Sea to Alaska to the Russian Far East, Indigenous Peoples are sounding the alarm: salmon are on the brink of extinction. The cumulative impacts of overharvesting, habitat loss, pollution, and climate change are contributing to a 90% decline of the wild salmon of the salmon seas.
Indigenous cultures, economies, food security, treaty rights, and traditional lifeways are under threat. But communities are fighting back, summoning the power of ancestral knowledge and practices to defeat proposed mega-mines and decrepit dams that stand as both monuments to colonialism and barriers to spawning salmon.
This week, Salmon Peoples of the Pan-Pacific are coming together for the International Indigenous Salmon Seas Symposium, a historic gathering that brings together Indigenous fishers, community leaders, and knowledge-keepers to build alliances across the rivers and watersheds of the three salmon seas: the Salish Sea, Bering Sea, and Sea of Okhotsk.
Join us this Sunday for a special live-streamed program of ceremony, song, and speakers from the gathering, organized by Se'Si'Le and moderated by The Natural History Museum's Director Beka Economopoulos.
Sunday, October 30th
6–8 pm PST / 3–5 pm EST
RSVP for link to livestream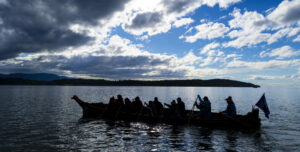 The Original Peoples of the Salmon Seas have from time immemorial honored their obligation to safeguard our natural and cultural heritage for future generations. As the climate and extinction crises intensify, we are called to come together around a shared struggle, not just for the salmon, but for the world of relations they bring to life.
For the future,
The Natural History Museum
PS – you are also invited to tune in to a day-long livestream from the symposium this Friday, Oct 28th, a sharing of tradition, ceremony, and cultural heritage from 9am – 4:30pm PST.
____________________
Thank you!
The Natural History Museum leverages the power of history, museums, monuments, and movements to change narratives, build alliances, educate the public and drive civic engagement to advance climate and environmental justice. Our programs are made possible thanks to support from 4Culture, ATALM, Chorus Foundation, Heinz Foundation, Hewlett Foundation, Invoking the Pause, Myer Memorial Trust, National Endowment for the Humanities, and countless individuals.
Please consider making a tax-deductible contribution today!
Your support goes a long way.