5:30 pm ET
Co-sponsored by The Natural History Museum and Breathe Project
Clean Energy Justice Roundtable @ Phipps Conservatory and Botanical Gardens
Schedule
* 5:30 PM: dinner reception
* 6 PM:  roundtable discussion
This panel brings together frontline communities, including Indigenous elders from the Pacific Northwest and environmental justice advocates from rural Appalachia and the Gulf South. Drawing on intergenerational knowledge and the lived experience of struggle, speakers will shine a spotlight on the costs, public health impacts, and environmental damage caused by extractive and fossil fuel-based energy initiatives. Speakers will address the power of people around the world to come together around truly clean energy solutions — solutions that contribute to the regeneration of the air, land, and water, and to the flourishing of communities that have been sacrifice zones for decades and longer.
Moderator
* Beka Economopoulos, The Natural History Museum, Pacific Northwest
Speakers
* Rueben George, Sacred Trust Initiative, Tsleil-Waututh Nation
* Yvette Arellano, Fenceline Watch, Texas/Gulf Coast
* Germaine Patterson, Women for a Healthy Environment, Pittsburgh/Mon Valley, PA
* Heaven Sensky, Center for Coalfield Justice, Washington County, PA
* Gillian Graber, Protect PT, Westmoreland/Allegheny County, PA
Bios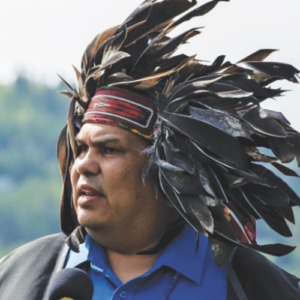 Rueben George (Tsleil-­Waututh)
Sun Dance Chief, Indigenous community organizer, and spiritual leader
Chief Rueben, on behalf of his First Nation, is co-coordinating the fight against the TransMountain Pipeline, a proposed tar sands oil pipeline and tanker expansion into Vancouver Harbor, the unceded Traditional Territory of the Tsleil-Waututh Nation. This pipeline route is currently the only way this dirty oil from the Alberta Tar Sands is making its way from Canada to new markets in China and the Pacific region. This fight has significant implications for Indigenous global sovereignty, climate change and the future of the global oil economy. Chief Rueben is the grandson of Chief Dan George, the Oscar nominated and universally respected First Nations spiritual leader.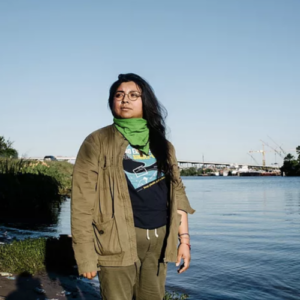 Yvette Arellano
Fenceline Watch, Texas
Yvette Arellano (they/them) is Mexican American gulf coast organizer based in Houston, Texas. They are the founder & executive director of Fenceline Watch, an environmental justice organization dedicated to the eradication of toxic multigenerational harm on communities living along the fenceline of industry. In 2015, Yvette led a campaign against H.R. 702, which opened the floodgates to U.S. crude oil exports. They were instrumental in the Center for International Environmental Law 'Plastic and Health: The Hidden Cost of a Plastic Planet'. Yvette has testified before EPA, state and federal legislative bodies about public health impacts from toxic exposure and potential solutions. In their advocacy, they have aided in crisis response post chemical disasters and contributed to efforts to stop fossil fuel expansions, new export terminals, and offshore drilling. Currently, they are leading efforts in Texas to remove historical language barriers that limit public participation of migrant communities in oil, gas, and petrochemical expansion process.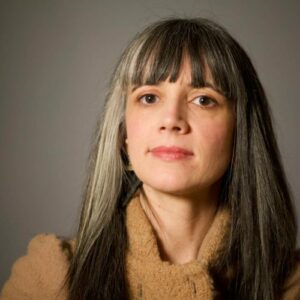 Beka Economopoulos
The Natural History Museum, Director
Beka is an environmental justice organizer, cultural strategist, and Director of The Natural History Museum, an award-winning initiative that leverages the power of history, monuments, museums and movements to support climate and environmental justice. The Natural History Museum collaborates with artists, activists, frontline communities, scientists, and scholars to develop advocacy campaigns with the goals of educating the public, measurably influencing public opinion, and inspiring collective action to protect natural and cultural heritage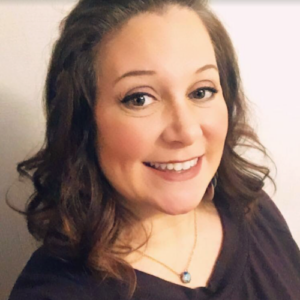 Gillian Graber
Protect PT
Gillian is the executive director and co-founder of ProtectPT. As a mother of two, Gillian is passionate about keeping children safe from the impacts of fracking. After an experience dealing with air pollution issues in her own home, she developed firsthand knowledge of the health impacts pollution can have on a family and how government agencies often ignore residents in distress.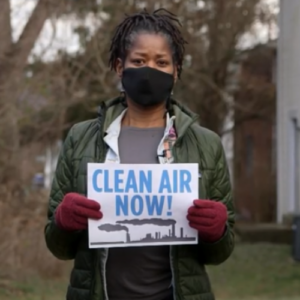 Germaine Patterson
Women for a Healthy Environment
Germaine Patterson is a community health worker and activist, working with Valley Clean Air Now (VCAN), Women for a Healthy Environment, and New Voices for Reproductive Justice. She began this work in 2019 when she began working with Women for a Healthy Environment. It was at this time that Germaine became more aware of the impacts of environmental exposure on the health and well-being of the communities she serves as well as within her own household. Germaine's work focuses on Air Quality and Children with Asthma in the Mon Valley communities of Clairton, Duquesne and McKeesport. Her work includes educating families on Healthy Home principles, helping families navigate any barriers that may interfere with controlling asthma and assisting in grassroots advocacy. Germaine grew up in Duquesne and currently resides in Clairton.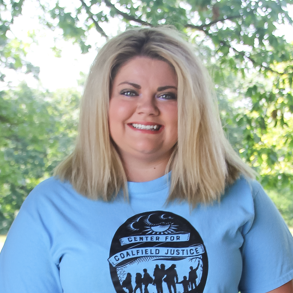 Heaven Sensky
Center for Coalfield Justice
Heaven Lee Sensky (She/her) is the Organizing Director with CCJ. She primarily serves Washington County and issues of Oil and Gas development. Her campaigns include solving the local childhood cancer crisis, advocating for harm reduction in relation to the opioid epidemic, and the intersections of racial and environmental justice. She was born and raised on a small farm right here in Washington County. She is a first-generation college student and a graduate of American University (Washington, D.C.) with a bachelor's degree in Communications, Law Studies, Economics and Government. She also received formal education in Women's, Gender and Sexuality Studies. Before joining team CCJ, Heaven interned in the United States Senate and for the office of Barack and Michelle Obama. She lives with her husband Casey and her dog Olive on her family farm.